---
<! begin item description area> <! item thumnail images (linked to full size)>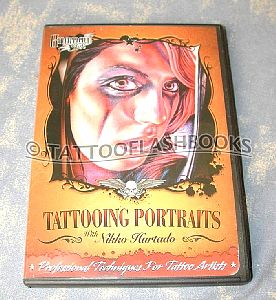 Click on an image to enlarge
Tattooing Portraits with Nikko Hurtado DVD
by Nikko Hurtado
In this 2-hour DVD, Nikko Hurtado teaches you how to successfully execute a tattoo color portrait.
From start to finish, Hurtado covers things like the creation and application of intricate stencils, color choices, needle groupings, choosing the right color photo, etc. He takes the viewer step-by-step through every important aspect and detail of creating a high-quality color tattoo portrait.
This DVD is for experienced tattoo artists that wish to fully understand the important technical and practical components of color portrait tattooing.
Topics Covered:
Design and Stenciling for Portraits
Color Portrait Palette
2-Hour Process from Start to Finish

Chapters:
01: Introduction
02: Creating the Color Portrait Stencil
03: Prep and Palette
04: Starting the Tattoo
05: Detailing the Face
06: Detailing the Eyes
07: Final Touches and Highlights

Duration: 2 hours
Sorry, this item is out of stock.
<! Paypal View Cart Button Code> <! Endo of Paypal View Cart Button Code>
---
<! End of item description>