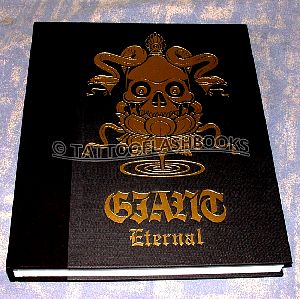 Click on an image to enlarge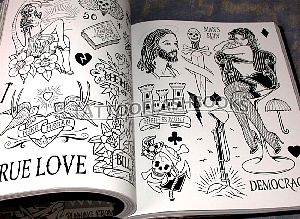 Eternal
by Mike Giant
Containing over 680 images on 304 pages, Eternal by Mike Giant is possibly his largest, thickest, and nicest hardcover book to date. It contains hundreds of images featuring Giant's famous black and white sharpie drawings, tattoos, hand-lettering, pencil drawings, graffiti, and more. Michael (GIANT) LeSage incorporates a broad swathe of influences and skills in the creation of a singular, unmistakable aesthetic and his central practice, drawing, is informed by his training in architectural drafting, his illustrious career as a tattooer, and worldwide exploits writing on walls.
Within his latest and most complete monograph, the reader will enjoy photos of tattoos, page after page of Mike's inscrutable tattoo flash, hand lettering nonpareil, and of course tons of drawings, graffiti pieces and action shots. Giant's worldwide exploits inking people, places and finer drawing paper around the world from Amsterdam, London, Thailand, Toronto, New York and back home to San Francisco are also given due prominence. Buddhism, track bikes, designing for apparel brand Rebel8, and painting fill Lesage's hours, but at the end of the day, it all comes full circle, back to his unwaveringly mindful, solid-black lines.
For more on Mike Giant's artwork, visit: http://www.mikegiant.com
Hardcover. 304 pages. Measures 9 1/4" x 11 1/4"
$34.99 USD
<! Paypal Add to Cart Button Code> <! End of Paypal Add to Cart Button Code> <! Paypal View Cart Button Code> <! Endo of Paypal View Cart Button Code>
---
<! End of item description>

<! begin item description area> <! item thumnail images (linked to full size)>